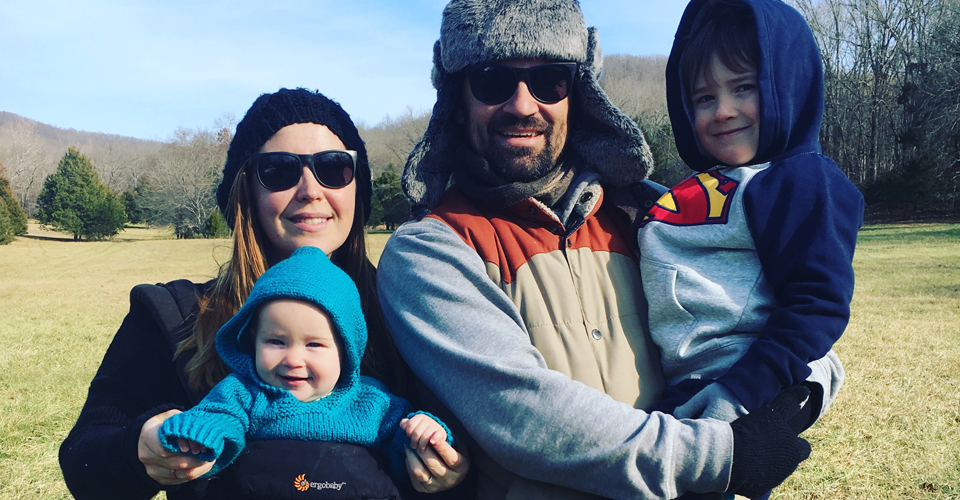 An important read for actors and families that need to travel together
I was cast as the lead in 2 features in the last year (still jumping up and down and screaming with joy on the inside). I was in almost every single damn scene. But I am also a Mom. My kiddos are young enough to require close proximity (breastfeeding support) and general daily momma-snuggle-needs but old enough that they could be with my husband all day (who graciously travelled with me for both films so I could be close to my family). My husband, Ryan, is a pretty rad partner. He helped develop these tips through trial and error. Ryan is an actor too, so he and I both understood what needed to be done.
I travelled with Ryan to one of his sets while our first babe was only a month old, Ryan was a leading role in a thriller and exposed our newborn to lots of daddy snuggles while daddy was covered in fake blood and dirt- luckily my films were much more toddler friendly than his.
Ryan has gone on extended trips alone and I have traveled to film festivals without them, but there are special circumstances when you need your family close. Co-parenting is a delicate balance. One thing to remember is WHY you need your family. If you are struggling with co-parenting or struggling with your marriage or struggling with anything that will follow you to set each day- don't do it. Don't bring family strife with you, don't bring your family for selfish reasons, & don't expect the film production to make you comfortable*- asking for what you need is up to you (and should be discussed before you take the job).
*While I'd love to say that the production should take care of you and provide for your needs, 'parent-friendly' practices have not made it throughout the industry just yet.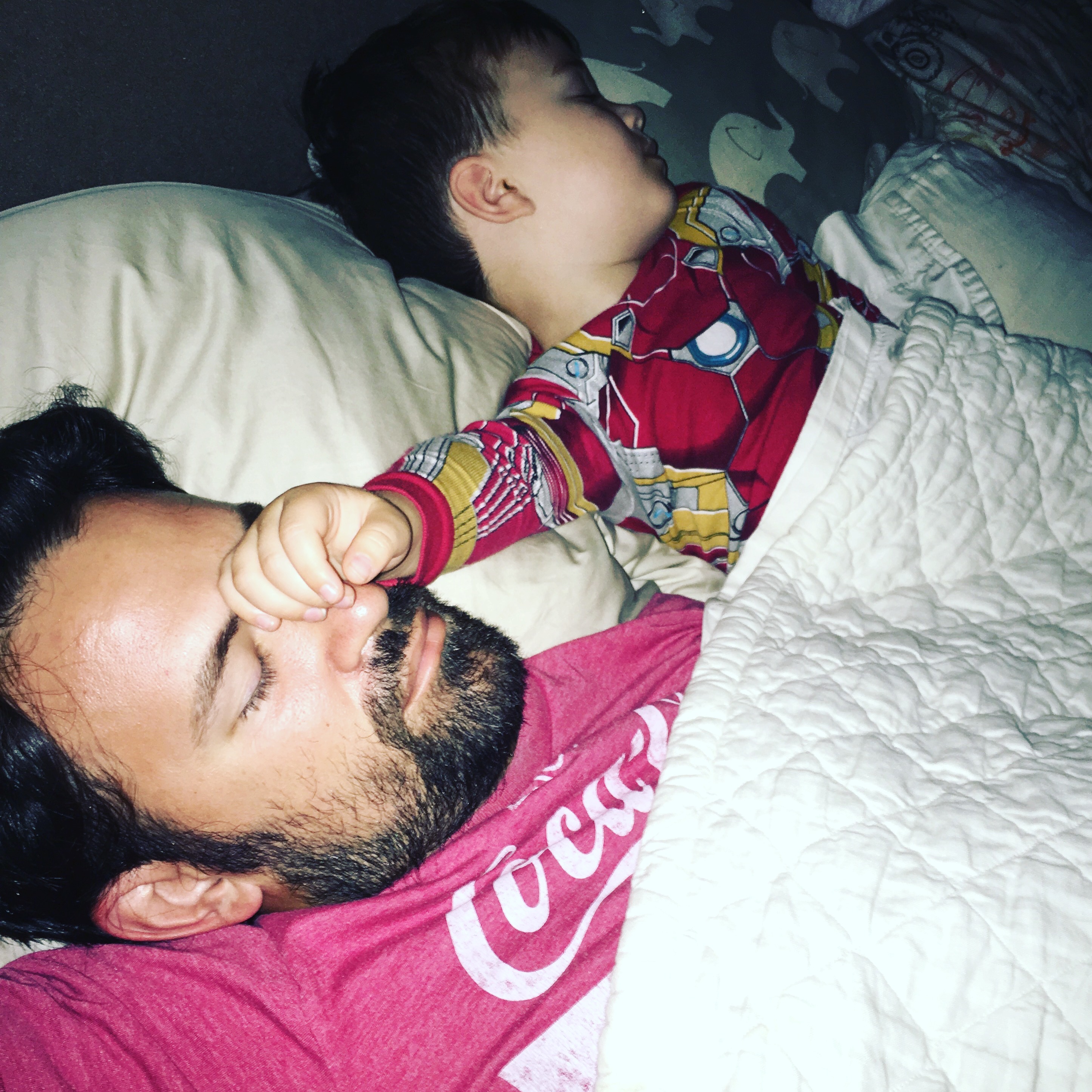 Planning
Basics: You'll need some comfortable digs. You'll need a car or clear knowledge of public transportation (if it's one of those cities that primarily relies on public transit). You'll need your own set of toys, books, and streaming device. You'll need constant internet access and a kitchen.
I prefer to stay in a VRBO (vacation rental by owner) or AirBnB- it's cheaper than a motel/hotel in the long term. We prefer to have a bedroom and living room so that we can be in the living room while the babe sleeps or while I sleep (don't forget the baby monitor). We also need a fridge/kitchen for family food prep (cheaper, healthier, super important). We need a big bed (we co-sleep) and a bath tub for the kiddo. It's going to be a few weeks, so list some basics that are necessary for you and the family. You need a car. You do- just rent one yourself. Do it. We also bring our Apple TV everywhere we travel. It's worth it.
Research the city and look for stay-at-home-mom hang outs (facebook helps), look for kids-eat-free days at restaurants (google the city), and make a note of cheap local movie theaters with kid friendly movies. Your city likely has some exciting attractions that you should enjoy- don't save it for your 'off time,' don't create boundaries that your partner and kid(s) have to save for time with you. They gotta do what they gotta do and you gotta do what you gotta do.
Bring the basic toys your kid needs everyday: 2-3 balls, a stroller (no matter what), and buy a new toy exciting toy for the trip! Make it special. Your kiddo deserves to think this trip is special for her/him too. And your partner needs a good distraction in order to take a shower when you aren't around.
Play time
You'll need to look at a map of the city and highlight all the child friendly options you know of right off the bat: City parks, Mall (with free child play area), water attractions, fast food play places, public pools, amusement parks (even chuck-e-cheeses counts!), hiking trails, kid friendly shops downtown, …
This is when you take tons of photos and occasionally plan a good FaceTime date with mommy on set during her lunch hour if you're visiting somewhere special.
Your partner/husband/spouse will need a break too. My mother-in-law came out for a few days on one set and hung out and watched the kiddo while my husband got a break from 24/7-alone-in-a-new-city-with-a-baby time. We also asked the director & his wife for babysitting recommendations on one of our trips so that Ryan and I could go to a movie. It's a great idea to try and schedule a little sitter time as a back-up. Ya never know if you'll need one in an emergency (daddy could get sick), you might as well be prepared!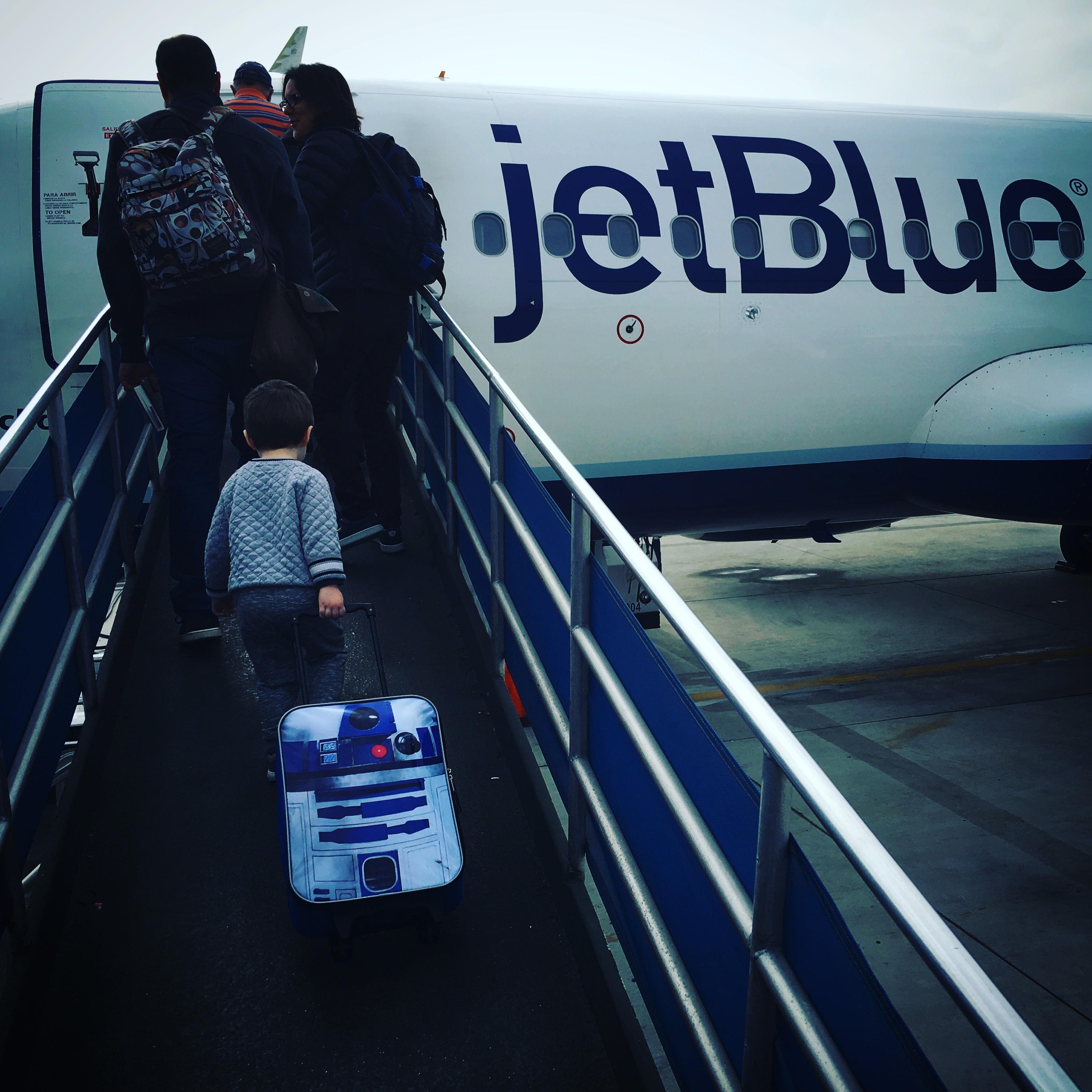 Production
How to handle set visits: Communication is key. I can look over my call sheet (forward all sheets to your spouse too) and get a good idea of when I'll have some free time: Lunch, Dinner, and scenes for which I am not needed. But we also wanted some good breastfeeding/snuggles before bed time. We practice attachment-parenting and that involves tons of physical bonding. Once a day Ryan would bring Free to me for a few minutes of love in his pajamas. The crew thought it was adorable, though I always worried about being a bother, we never were. I think parents will always cut their stay shorter than needed and schedule less visits than necessary out of respect for production- just trust that you are doing just fine. No one is judging you as much as you are.
I need to bring up the Wee Wagon Project for moment. A film business practice that needs to adjust is the inclusion of on-set child care. It is in the works right now. Read more about it HERE. It's a really big deal. BUT until that practice has become normalized, we'll just have to settle for spreading the word about moms-in-film.org and #BudgetTheBaby. Ok, back to what you can do today-
How (and when) to discuss your needs with production: Before the deal memo is complete. Sit down with your partner and discuss what you need and include it in the deal memo. Production isn't filled with procreating women (yet!) so they will need some help making sure they can assist you best: 1. Need a way to safely store pumped milk (PA can likely immediately transport to a production office fridge or deliver to your hotel if nothing else), 2. Place to pump/breastfeed (should be in your dressing room needs already)**, 3. Need specific breastfeeding or pumping breaks that work with your schedule and production (sounds daunting/scary, but usually super easy- I've breastfed on every set with no issue, doesn't take away time from production if planned), and 4. All access set pass & lunch privileges for spouse/baby (visiting times will be scheduled, so that shouldn't be a problem).
**PSA on Breastfeeding/pumping rights: it's the law that your needs be met, FYI. You are not asking for special considerations, you are submitting in writing what you are already entitled to as an employee. Call SAG if you have ANY doubts about your rights. SAG rules are generally made with CA laws in mind, so they will be followed no matter where you film. You are legally protected to openly feed in any place your body is legally able to be at anytime. Seriously. Know your rights so you can defend yourself in the face of ignorance. If production has a permit to film, followed SAG guidelines, and are operating legally- you can do whatever you want- no cover required.
After work actor-prep: you'll need time to go over lines, take care of your actor needs, shed some tough scenes, and do general private actor work when you are at home. Communicate -beforehand- that you need space after work, it could be late at night or early in the morning, but communicate with your partner about what you need and when you need space. Keep it limited to what you actually NEED and communicate when you're free for mommy time.
I enjoyed going to the grocery store, running around the Walmart toy section (making a mess, of course), and well-needed momma-baby/toddler alone time in my off-time. Coming home from set, I needed to blow off some steam, have a beer, and play with my kid. I could get back to actor time after nite-nite or in the morning. I chose morning for prep, exercise, and bathroom/actor time to myself. You need to decide when and how to balance both in this short amount of time made available to you.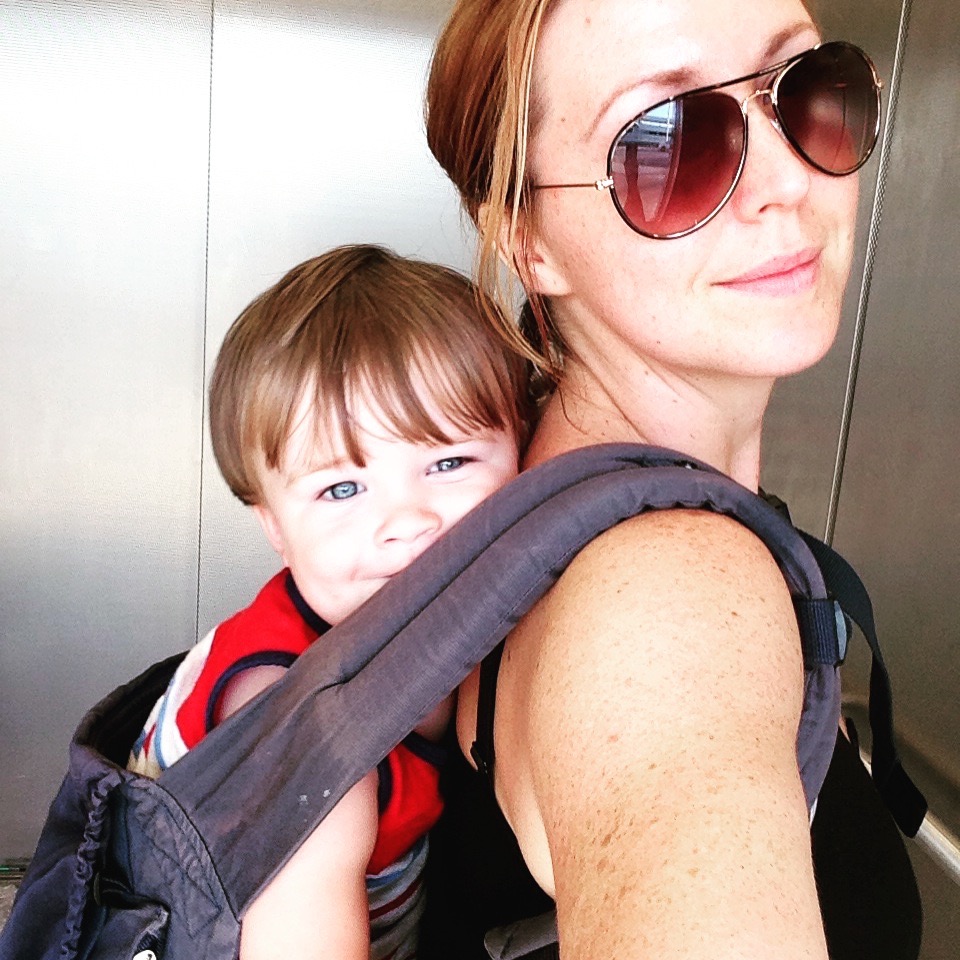 Troubleshooting
Aww, weather… I am a SoCal native and cannot handle even the slightest change in weather. It will be too hot, it will be too windy, it will be raining, and it will SNOW. I am not equipped to understand how those things work, but I do know that cities who have those things likely have ways to cope. Kids adapt and kid play places exist around weather, look for them.
I once filmed in a delta-adjacent mosquito-haven that overwhelmed my understanding of bugs. I was at the health food store immediately, asking for whatever I can do to save my face (for filming) and save my kiddo from Mosquito murder. In the heat of Summer. With overnight shoots. Sincerely ask local crew and background actors for their expertise and really listen and implement. You need to know how the locals survive and do whatever they say.
In the event of a production and parenting problem: If and when a timing/needs/other issue comes up- talk to your partner to establish what you need and THEN talk to production about what you need. If Production is giving you an issue- again, talk to your partner about what you need and THEN talk to production about what you need. If your needs cannot be resolved immediately, call your agent. If your agent/manager is not the best option, call SAG. Anything can be solved if you and your partner are on the same side and you communicate effectively with production at an appropriate time. Some things need to be taken care of immediately and some things need to be taken care of after work that night. Decide what is necessary before moving forward. If you are seeing a pattern: your parenting partner and YOU come first (and then likely your agent) and THEN production is brought in on the conversation, not the other way around. You are an actor. You are only as good as your instrument. Your instrument is made up of your body and your family. They are not separate. You can be apart for loooong periods of time whenever you choose, but they are your body, so don't confuse your obligation to production with your right to bodily autonomy.
I am a Producer, I know what it means to have a problem between an actor (or crew member) and production. I have not confused the lines as to where allegiances lie- respect and understanding goes both ways. You make choices for you and then production decides if that works for them. Negotiations may come after that, but you and your family come first.
If you ever need to talk to someone who understands or can support you in making decisions for you and your family in this crazy, awesome, unique industry- check out some resources below. We have technologically accessible communities available at our fingertips. We have resources beyond what you know now. We have big hearts and strive to make this industry safe for all women, children, families, people of color, our LGBT community, and all types of artists and engineers. We are a film community that is all encompassing now. Find your niche support group and help us all understand what you need. Talk to us and we'll listen. We all need help so that we can keep getting our voices and point of view up on the screen and in front of mother culture. Everyone needs to hear from YOU, help us help you make that happen.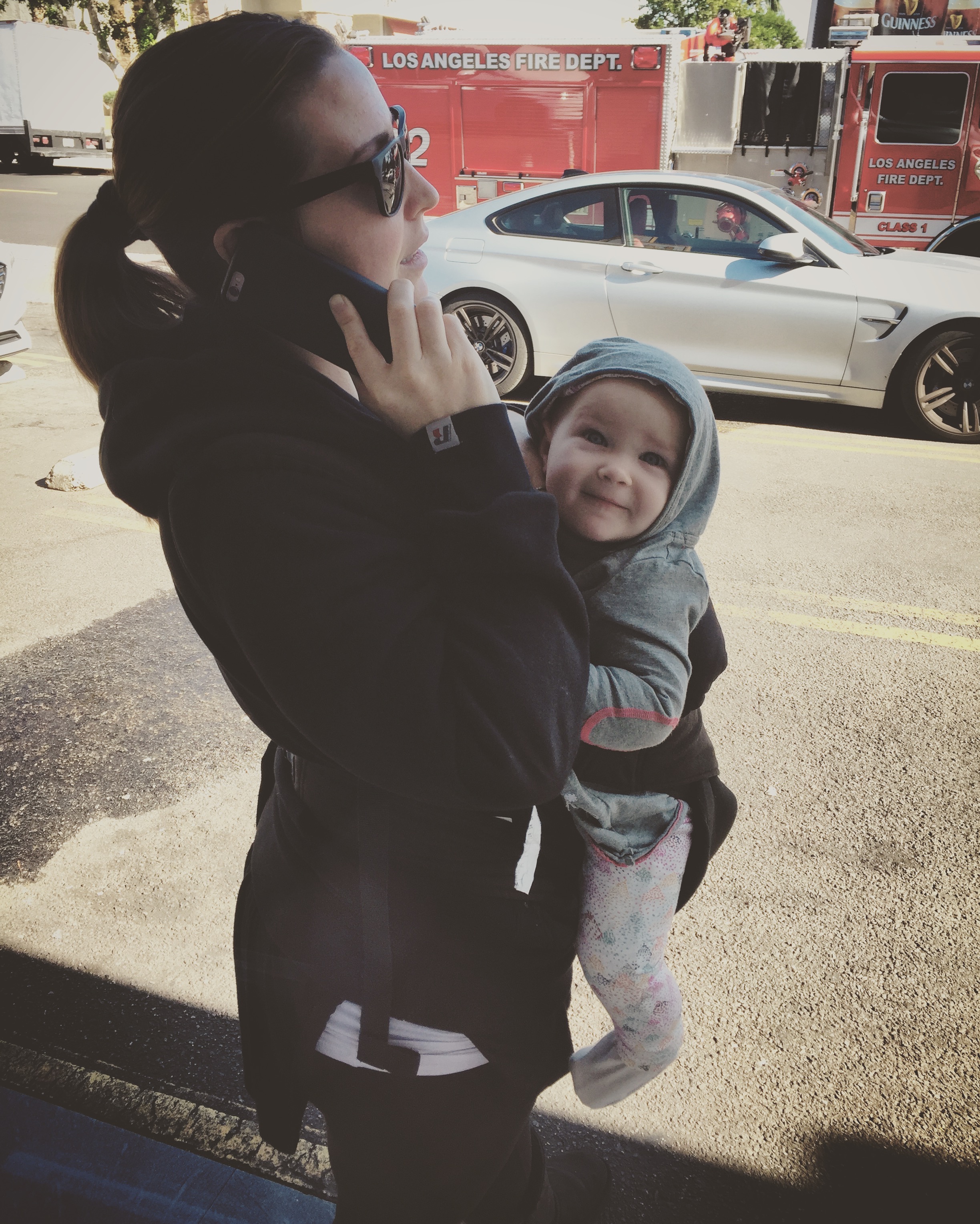 Need to know more?
Call SAG for SAG specific violations: 323-954-1600
Pregnant? Soon To Be? Contact The Actors Fund for general support: http://www.actorsfund.org/services-and-programs
Call your SAG union rep at 323-549-6459 (LA local) to have your voice heard.
Pregnant or parenting LA SAG actor? Find community here: http://momsinfilm.org & https://www.facebook.com/groups/momsinfilm/, & @Motherhoodinollywood Podcast & http://motherhoodinhollywood.com
Pregnant or parenting NY SAG actor? Find some community here: http://momsinfilm.org (bi-coastal) & https://www.facebook.com/groups/momsinfilm/
Pregnant or parenting Actor in the UK? RaisingFilms.com
Parenting in the Film industry? Please read about the
Wee Wagon project
: http://momsinfilm.org/blog3
Go to SeeJane.org for other ways you can put women on the screen and the exponential benefits to gender equality in media.